Welcome!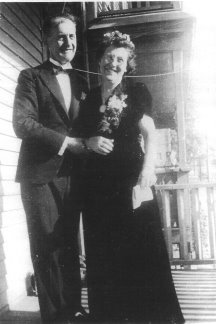 Log In | Register for a User Account
Welcome to the Genealogy section of the Charest family on the Web!
This website is built for the Charest family descendants of Ildephonse (Alphonse) Charest and Emilie Frechette of Manville, Rhode Island.
Feel free to browse our family tree. If you feel you may have information about our family members, think you might be related, or just want to provide some feedback, please use our contact form to send a message to our Webmaster, Ron Charest.
This website is a companion site to the Charest Family on the Web website maintained by Ron Charest.
(Cover image of Ildephonse and Emilie Charest, believed to be taken on their 25th wedding anniversary of October 4, 1941. This photo was taken on the front porch of their house on Gaulin Avenue, behind Saint Ann Church, in Woonsocket, Rhode Island.)
Contact Us
If you have any questions or comments about the information on this site, please contact us. We look forward to hearing from you.